Your donation to Vision Australia's Carols by Candlelight is more than just a Christmas gift. It helps us provide life-long assistance to young Australians who are blind or have low vision. Make a donation here. 
The difference you can make
Haya 
Haya is your typical nine-year-old. She is an expert cook, extremely social and loves playing board games with her sister and young brother. She is also legally blind.
Haya was born with Bilateral Optic Nerve Colobomas, where the optic nerves and retinas at the back of her eyes did not develop before she was born. This means she has a very small amount of vision and can only see blurry shapes and colours.
Originally from Lebanon, Haya's family moved to Australia in 2017 so she could receive the best possible care. After doing some research, they sought help from Vision Australia to learn how to support Haya in living life to the fullest. 
While Haya may need assistance learning how to tie up her hair or use cutlery – everyday activities we take for granted – her vision loss will not slow her down, nor dim her ambitions. Ask Haya about the future and she'll tell you she's got big plans.
"When I grow up I want to be an astronaut, a coder, a farmer, a writer, a scuba diver . . . I can't list everything because I have lots of jobs in my head."
---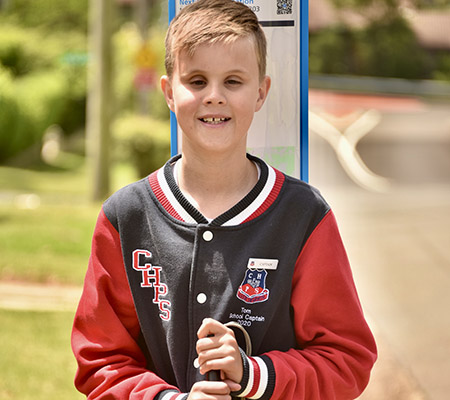 Tom
Meet Tom, the future CEO of Qantas. While that may seem like a bold claim, Tom isn't afraid to pursue his dreams.
He is currently school captain, something he has wanted since kindergarten, and has his artwork featured on the cover of the 2021 Vision Australia Art Calendar.
Soon after Tom was born, he was diagnosed with Familial Exudative Vitreo Retinopathy, a congenital disorder where the blood vessels in the retina do not develop normally.
Now 12, this rare condition has left Tom with very little vision. He can only see from the bottom of his right eye and focus on an object if it's inches from his face.
Working with Vision Australia's Early Childhood Intervention team, Tom received the support he needed to hit developmental milestones like any child his age and built confidence day by day.
Alongside everyday activities like tying his shoelaces, putting toothpaste on his tooth brush and school work, Tom is also learning how to read  braille using a Mountbatten Brailler.
It is this independence that will allow Tom to be capable and successful in what he chooses to be in the future.
---
August 
When August was only 8 weeks old, his parents Alex and James noticed that he was unable to make eye contact and had a lack of awareness of his environment. They discovered August was born with Albinism, a rare condition where the body doesn't produce enough melanin and the eye nerves don't develop in the womb.
Understanding the importance of early intervention, Vision Australia professionals were engaged and included an early specialist teacher, physiotherapist and occupational therapist. Together they provided the required support and care for August.
In less than a year, August has achieved some major milestones in normal time. Despite our inability to leave the home, Vision Australia has provided us with tactile books and toys for August to play with. They also came with us to a local day-care to assist and assess the centre for August's needs, and assist the staff in August's care."
The team at Vision Australia have helped Alex and James to gain confidence within themselves and are providing the family with the right tools to ensure August can do anything he sets his mind to as he continues to grow.   
---
Sam
Sam is at an exciting stage in his life. He has just turned 18, graduated from high school and is looking into tertiary courses that will help him achieve his dream of being a radio presenter.
But when Sam was just 12 weeks old, his parents weren't sure what the future would hold for their son. Sam was diagnosed with Bilateral Retinoblastoma, a rare eye cancer. After four-and-a-half years of aggressive treatment including chemotherapy, cryotherapy and laser therapy, doctors were left with no option but to remove both his eyes.
Vision Australia has been right there from the very first days of Sam's diagnosis, supporting him through every hurdle. "Since my mum rang them in tears the day after she found out I was going to be blind, Vision Australia offered just about every service imaginable in order to provide me with the best opportunities in my young life," Sam said.
In his younger years, Sam worked with Vision Australia's early childhood development teams and orientation and mobility specialists to help build his confidence and independence. Now, with the future high on his mind, Sam is making sure he ready for tertiary education with Vision Australia's employability and leadership program, LEAP Up.
---