As Carols by Candlelight approaches, we'd like to highlight some of the excellent food providers who are supporting us in 2018. Keep an eye out for these delicious delectations, and so many more, at the
Christmas Festival
!  
Villa Maria Wine Garden
For the fourth year in a row. Villa Maria is the highest ranking New Zealand winery in this year's "World's Most Admired Wine Brands" list. Said Sir George Fistonich, founder and president of Villa Maria Estate, "being named as the most admired wine brand in New Zealand four years in a row is testament to the level of quality our wines consistently deliver and shows we exceed in all the award criteria. It's such amazing recognition for Villa Maria and I'm incredibly proud that we continue to rate the highest New Zealand winery on this most prestigious of lists." A leader in sustainability, innovation and quality, Villa Maria is a family owned winery recognised as an icon in the New Zealand wine industry, and their travelling wine truck will be present at Carols by Candlelight 2018 for you to sample this incredible wine!  
Barista coffee by Brewtech
Brewtech is an industry leader in the Melbourne specialty coffee market, a coffee-loving team who supply premium equipment, sales and servicing to many of Melbourne's best cafes, restaurants and coffee roasters. Brewtech is very proud to be supporting Vision Australia's Carols by Candlelight in 2018. This year Brewtech is also providing coffee for all our staff and performers, giving them the buzz and the energy they need to provide and support such quality entertainment!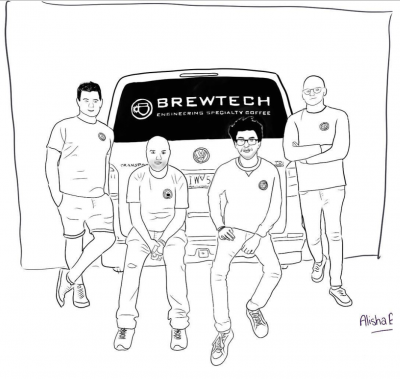 Goldeluck's Doughnuts
Goldeluck's Doughnuts was established in 2018 by Phillip Kuoch. Since their humble beginnings, they have served more than 350,000 customers and regularly been featured as one of the best doughnut shops in Melbourne by publications such as the Herald Sun and Concrete Playground. With stores in Croydon South and Eastland, Goldeluck's is notorious for its innovative, award-winning doughnuts which not only taste great but look amazing! Goldeluck's delicious doughnuts are totally unique, and we're thrilled to have them join us this year for Carols by Candlelight. This year they will be teaming up with Vision Australia Radio, and together their stall will share the great services that Vision Australia's audio team provide to the community while Goldeluck's will be selling their world famous doughnuts with all proceeds going towards the
4x Brighter Appeal
.