Double your impact this Christmas - be part of our Corporate Matching Appeal
Help us build a brighter future for kids who are blind or have low vision by joining our Carols by Candlelight matched giver community.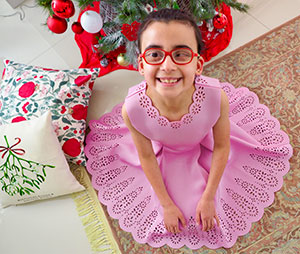 On average, it costs us $4000 a year to support one child who is blind or has low vision. 
By pledging to match donations, you inspire Australians to give this Christmas and double their impact. So it will be a Christmas that's twice as special for everyone. 
With this Matching Appeal, a donation of just $2000 can support a child to access: 
More copies of books like Harry Potter in braille and audio formats; 

More white canes for navigating the playground; 

More mobility sessions for finding the right classroom; 
and so much more, helping them to live the life they choose. 
Ways to get involved 
Make a corporate donation now. Your donation will be used to match and multiply the donations we receive on Christmas Eve. 
Please complete the Carols by Candlelight matching pledge form and email to renee.jess@visionaustralia.org

Sign up a team on your organisation's behalf. Engage in a bit of friendly competition and try to outraise other donor teams before Christmas. It's for a good cause, after all! 
Check out our teams checklist, then email carolsbycandlelight@visionaustralia.org to get your team set up. 

Dollar-match what your staff and/or customers raise. This is a great way to get your different stakeholders working together towards one goal. Choose you collection  donations. Host a morning tea or collect donations in-store; the choice is yours!
Complete theCarols by Candlelight matching pledge formwith your total donation email torenee.jess@visionaustralia.org