---
Jeffrey Gung's story
If there was a competition for Vision Australia's Carols by Candlelight's biggest fan, Jeffrey Gung would be a fierce contender. Now almost 70 years of age, Jeffrey first attended the Carols at the tender age of three with his Mum, Dad and older sister – and he has been an avid attendee ever since.
"It's incredible how you can remember things that happened at that age," Jeffrey says.
"I remember we were in the Gardens, opposite where the National Gallery is now, and I was standing there on the grass near St Kilda Road holding my Dad's big finger – I just felt the spirit then."
As a young child, part of the thrill was coming into the city to see all of Melbourne CBD decorated in the Christmas spirit. He recalls a giant Santa on the corner of Bourke and Swanston Street that waved its finger as if to say 'come in, come in!'. Today he says the Christmas spirit seems to be much more affected by consumerism, but that the one thing that is constant about Christmas in Melbourne after all these years is the Carols.
"Whenever I'm in Melbourne, which is most Christmases, I do my best to get tickets to the Carols because it's the only place I feel the Christmas spirit," Jeffrey says.
Jeffrey says his love for the Carols started with his Mum and Dad and he has continued the tradition with his own family, taking along his son Ji Hao as a boy and even now as a grown adult. Though Jeffrey doesn't have any grandchildren yet, he one day hopes to introduce them to the magic of the carols too.
"Norman Banks started something fantastic," Jeffrey says.
"And it gets better every year."
When asked to pick a special highlight from over the years, he simply says that every year is the highlight.
"Going to the carols is my highlight for the year. I knock back a lot of parties on Christmas Eve and people don't even bother asking me now because they know I'm going to the Carols."
He can, however, name his favourite carol.
"Oh Holy Night. It doesn't matter if it's sung by a man or a woman, but when they have a really powerful voice, oh my, I get goose bumps all over. I really feel the spirit."
As for his favourite performer, he says he has several but that Marina Prior is the standout.
Ultimately, Jeffrey says he loves the Carols for the people, the atmosphere, and, as a Christian, to celebrate the birth of Jesus Christ.
"That's why they mean so much to me. I love standing up and raising the candle with the Hallelujah chorus."
Having purchased two tickets in the seated area for this year's Carols, Jeffrey couldn't be more excited for 24 December to arrive, both to enjoy the Christmas spirit and to help raise money for services to children who are blind or have low vision.
"I have nieces and nephews who were born blind and they have been helped by Vision Australia now for many years. It's all for a good cause, and I feel good about that."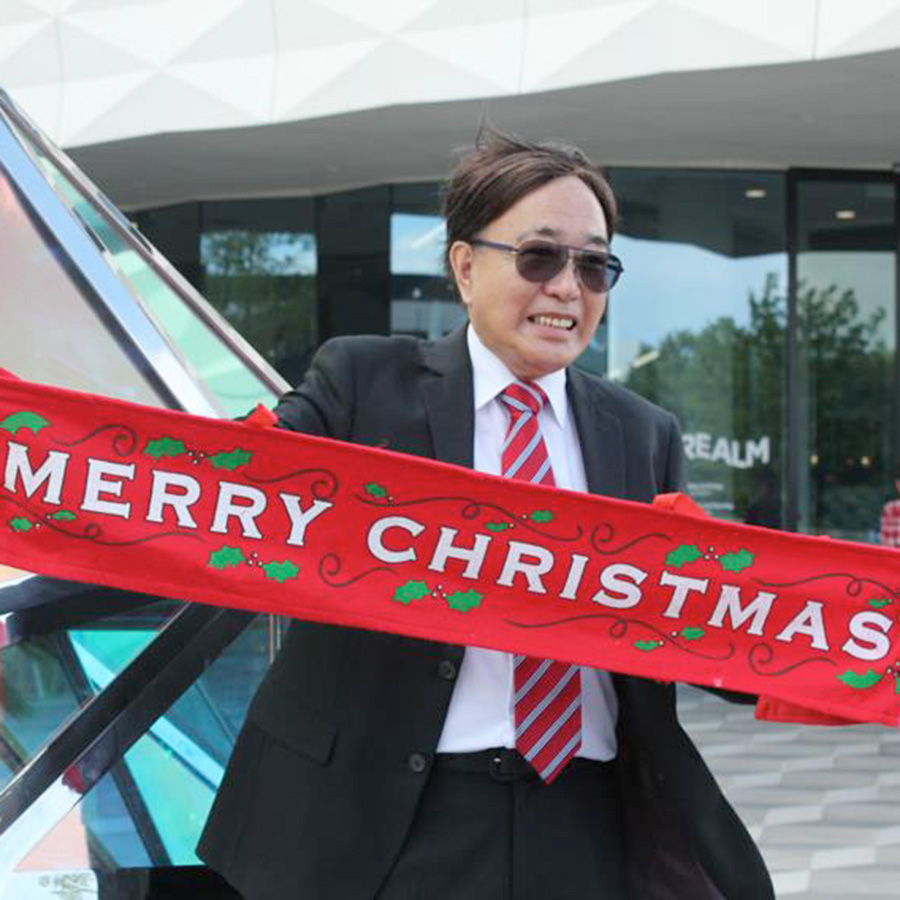 ---
Hala Austin's story
Growing up, Carols by Candlelight has always been a part of my family's Christmas tradition. The first year I attended, I was one-year-old in 1996, there were only a few of us and we were right up on the top of the hill next to the lights. Part of our Carols tradition is to tape it and watch the replay years later thinking of all the memories including sunburn and performers.
This year, 2016 will be 20 years, two decades, since we began this Christmas tradition. We have only missed two carols; one year we left it too late to purchase tickets and the other we were rained out. Since missing out these two times, we make sure we always buy our tickets early. We have learnt that to get the best seats on the hill, you need to get there early during the day and throughout these times have met some incredible people that have become known as our Carols family. These people we see only on this day of the year, the best day of the year; we share stories and news from our lives that has happened since we last saw each other, play games and of course always try to get a good tan.
My family breaks the day up into shifts; the early shift, the lunch shift and the most important one; the running shift. Oh and of course the dinner shift. This way we all get to play a part in this day we love so much. Sometimes lining up is just as entreating as the actual Carols itself. A lot of people think we are insane lining up early but to us it's a tradition and will be for years to come.
The Carols by Candlelight concert itself is amazing. Vision Australia puts on a fantastic show year after year. It's indescribable seeing the sea of candles lit up in the Sidney Myer Music Bowl. Every year we seem to always get ourselves on TV at some point during the production and it's now not Christmas until we have all been on.
It's hard to explain the excitement and importance of it to someone who has never been. I just say you won't regret it with thousands of candles in the air, on a warm summer's night with your family singing at the top of your lungs – it's pretty hard to miss the best day of the year.
---
A Carols Family Tradition
Isla Ferrarotto has been coming to Vision Australia's Carols by Candlelight for over 25 years. Read her Carols by Candlelight story in her own words…
---
The first memory I have of Carols by Candlelight, is Marina Prior. Staring up at her amazing dress from the second row. I couldn't believe how stunning she was up close, it was like watching an angel. Still to this day, no-one is allowed to speak to me while she is singing!
She is Carols to me, oh and Ray Martin of course. My Mum, who was a solo mum, went to great lengths to line up for tickets at the local library where the agency was. It must have cost her a fortune, but she never mentioned it or made a fuss. We knew how lucky we were to experience live, what all of the rest of Australia had to watch on TV. I also remember Mum getting cross at me for tipping candle wax all over the place. I'm sure many a good jacket was ruined by candle wax!
My girls love Lisa and David! They are sure if they sing loud enough and sway their candle high enough that they might be seen by the cameras and be famous. I remember taking them for the first time, surrounded by family, we sang loudly to Hi 5, and my girls were sure that Santa was going to struggle to deliver all the pressies to the world if he stayed on stage much longer.
Now they are a little older, they love rolling down the grass hills and sitting with their Grandma having an evening picnic and singing. They are sure they can see his sleigh shooting through the sky after he has left that night. We start practicing Christmas Carols at the start of December so that we can join in on all of the performances! Drives my hubby a bit crazy, but we really love Christmas in our family.
We sat in the seats at the front a few times when I was younger, it was always so special to turn around and see all the candles when the performances asked the crowd to raise them. Our Christmas definitely starts on Christmas Eve. I feel like we are connected to the whole of Australia that night. We spend the evening wishing everyone well, help to raise funds for a very worthwhile cause, and of course watching the kids get excited as the big day draws closer.
---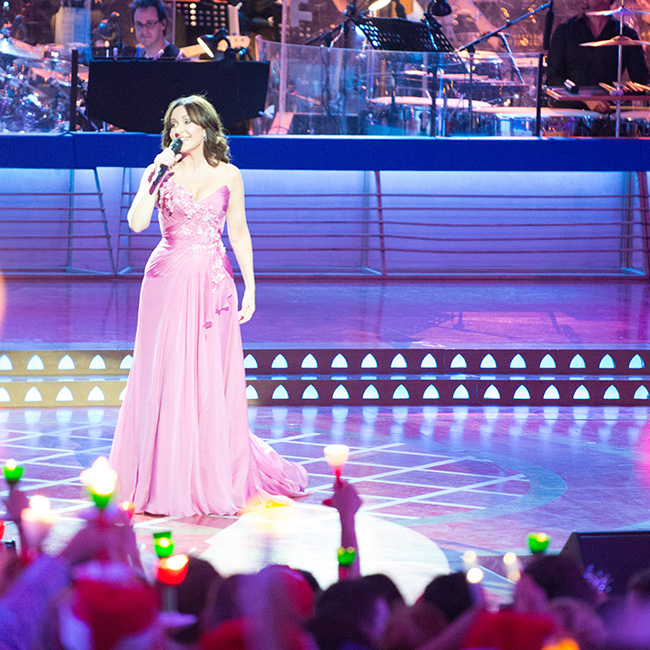 Chasing Carols
This year marks 79 years of Carols by Candlelight and our fans are the best!
The event is also Vision Australia's biggest fundraiser, with 100 per cent of profits from ticket sales going towards services for children who are blind or have low vision.
Over the years, the event has attracted a number of loyal fans who snap-up their tickets within minutes and are at the gates on Christmas Eve from 3am.
Kaanji Skandakuma has been going to Carols by Candlelight since 2004, and despite living abroad, she goes every year.
"I started going to Carols by Candlelight in 2004. The first year I went with a bunch of friends from high school and we all left agreeing that we had to do it again next year. This year will be my 12th Carols by Candlelight. I now live in Los Angeles and I have always made sure I am in Melbourne to attend Carols every year - rain, hail or shine," she said.
"Some people don't understand why I do it - but the answer is simple - during the busiest time of the year (between Christmas parties, catch-ups, shopping for presents and rushing to complete everything at work before the end of the year) this is the one day where we get to sit-back and enjoy the beautiful day, and enjoy a fabulous concert by candlelight before the madness of Christmas Day," she added.
For children who are blind or have low vision, Vision Australia's specialist staff, the child and family work together in their environment to facilitate the transition into mainstream pre-school/kinder, primary school, high school, further education and onto employment.
Proceeds from ticket sales, sponsorship and donations all go towards services that ensure children who are blind or have low vision reach their goals and potential.