December might seem far away, but here at Carols by Candlelight HQ, we're preparing something extraordinary. When our community comes together on Christmas Eve, we'll light our candles to support kids who are blind or low vision to live the life they choose. And with only a couple of months to go, we're busy planning a truly magical evening.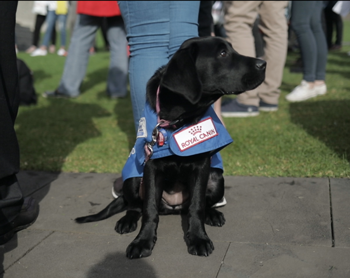 So what fills a typical October day for the Carols team?
Team meetings on the priorities across marketing, artwork, logistics, sponsorship, media and communications.
Taking our office dog for a training walk. Reggie is a Seeing Eye Dog in training, and a crucial part of the team.
Meeting potential new sponsors to discuss the exciting activities they can help us with
Talking about ticketing with our friends over at Ticketmaster.
Checking our supplies of glow sticks, candles, and candle holders.
Marching around the Sidney Myer Music Bowl to find the best lawn spot and a million other tasks to bring us closer to Christmas!
We can't wait to tell you all about the wonderful plans we have for December 24th at the Sidney Myer Music Bowl. Keep your eyes open for our updates on tickets, competitions, and the latest news on all things Carols. We'll be making Christmas brighter than ever!