We're getting ready to make Christmas 4x Brighter for kids who are blind or have low vision! Will you join us?
Thanks to the generous donations of the Vision Australia Community, every dollar we raise through our 4x Brighter Matching Appeal will have 4x the impact. This opportunity doesn't come around every day, so what are you waiting for? Help us right now so we can support kids to live the life they choose.
Every donation will be quadrupled from now until 4pm on Christmas Day, and your support can make a huge difference to kids who are blind or have low vision. Through this Appeal:
$125 will become $500, and can convert the entire Harry Potter series into braille
$1,000 will become $4,000, and can support a child to access Vision Australia services for a full year
$2,500 will become $10,000, and can help a child through their final school years and into university or TAFE
$12,500 will become $50,000, and can help us run sports, music and art programs, like the annual braille music camp
Head across to our campaign page right now to make your donation.
Spread the word
The most powerful messages are the personal stories and photos that speak to why you're supporting the campaign. When you speak to others about the campaign, tell them why it matters to you, and why you've chosen to make Christmas brighter this year.
Through your social networks: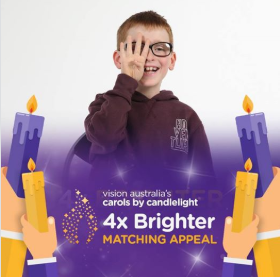 Add our filter to your profile photo here: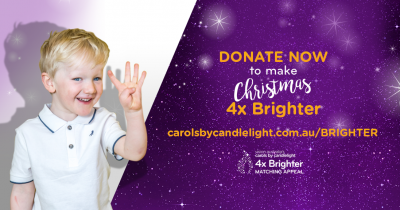 Download and then upload this image as your cover photo.
In the workplace:
Email your colleagues or HR department:
Send around our flyer:
Use our email signature:
Sign up a team
Teamwork makes the dream work! Start up a team to work together and maximise your impact. Your team could be an entire community or region, based in one building or all across the country, as long as you have a way of speaking to them:
a workplace
local community group
sporting club
religious group
or just your family and friends!
How? Download our checklist:
Print out and fill in our poster:
Looking for more information, or have a question about the campaign? Email our team at carolsbycandlelight@visionaustralia.org today.